17 // Training Camp Winner – Joanne
September 26, 2023 at 11:18 pm
by
UBX
Introducing Joanne, our 17 // Training Camp Major Prize Female Winner.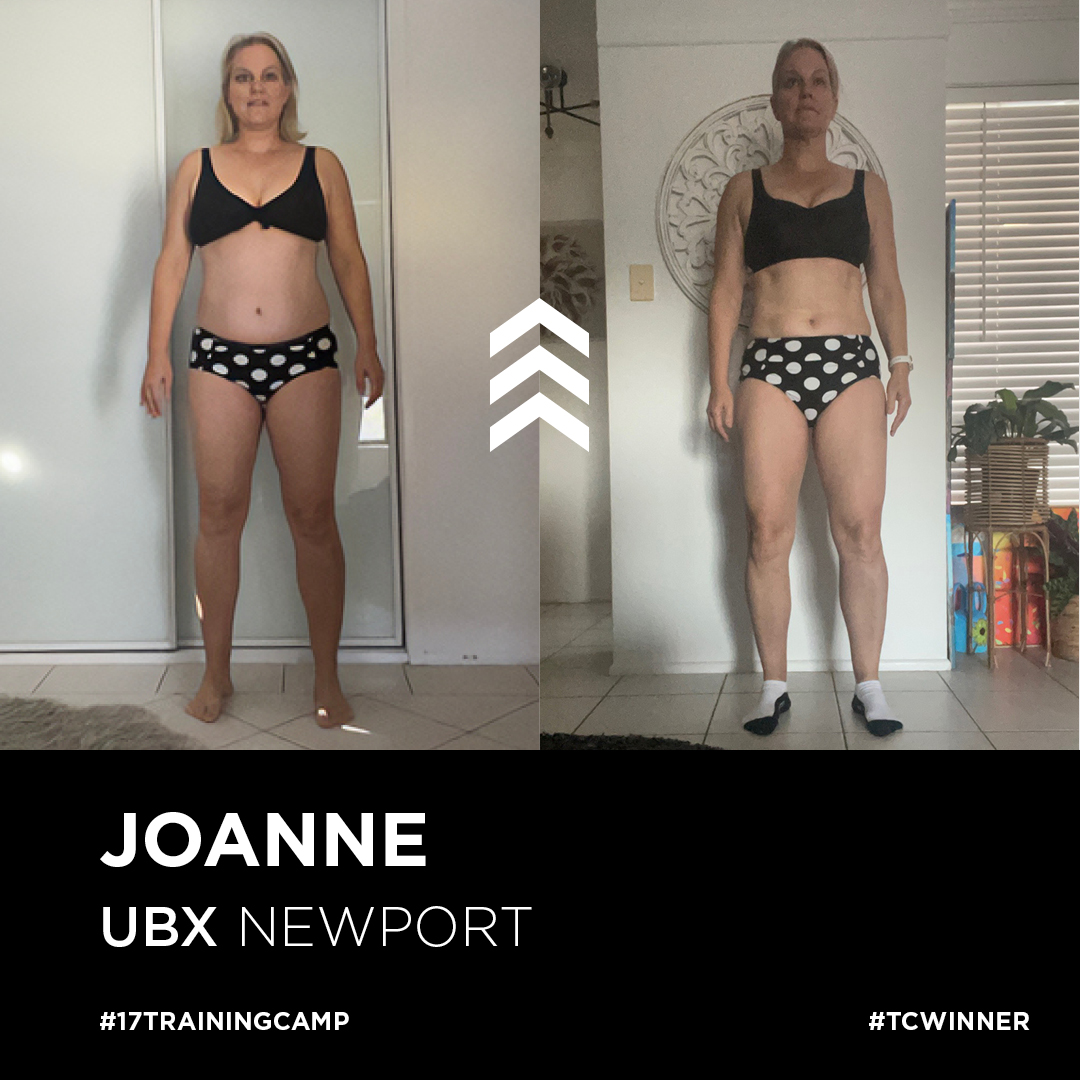 Starting her journey with us as a Foundation Member at UBX Newport. Joanne was looking for a way to get back to into exercise after a series of injuries had stopped her from being active and participating in the sports and activities she used to.
Then, as the 6 week challenge came around, Joanne made a commitment to train at least 4 times a week whilst increasing her active recovery through regular walking. Despite a back injury earlier in the year, Joanne's coaches were able to adapt the workouts to suit her physio's requirements and help her get the most out of each session.
As a full-time teacher and busy mum of 3, Joanne relied on a combination of ready-made meals, Training Camp app recipes and protein supplementation to support her progress.
Here is Joanne's transformation from 17 // Training Camp:
RESULTS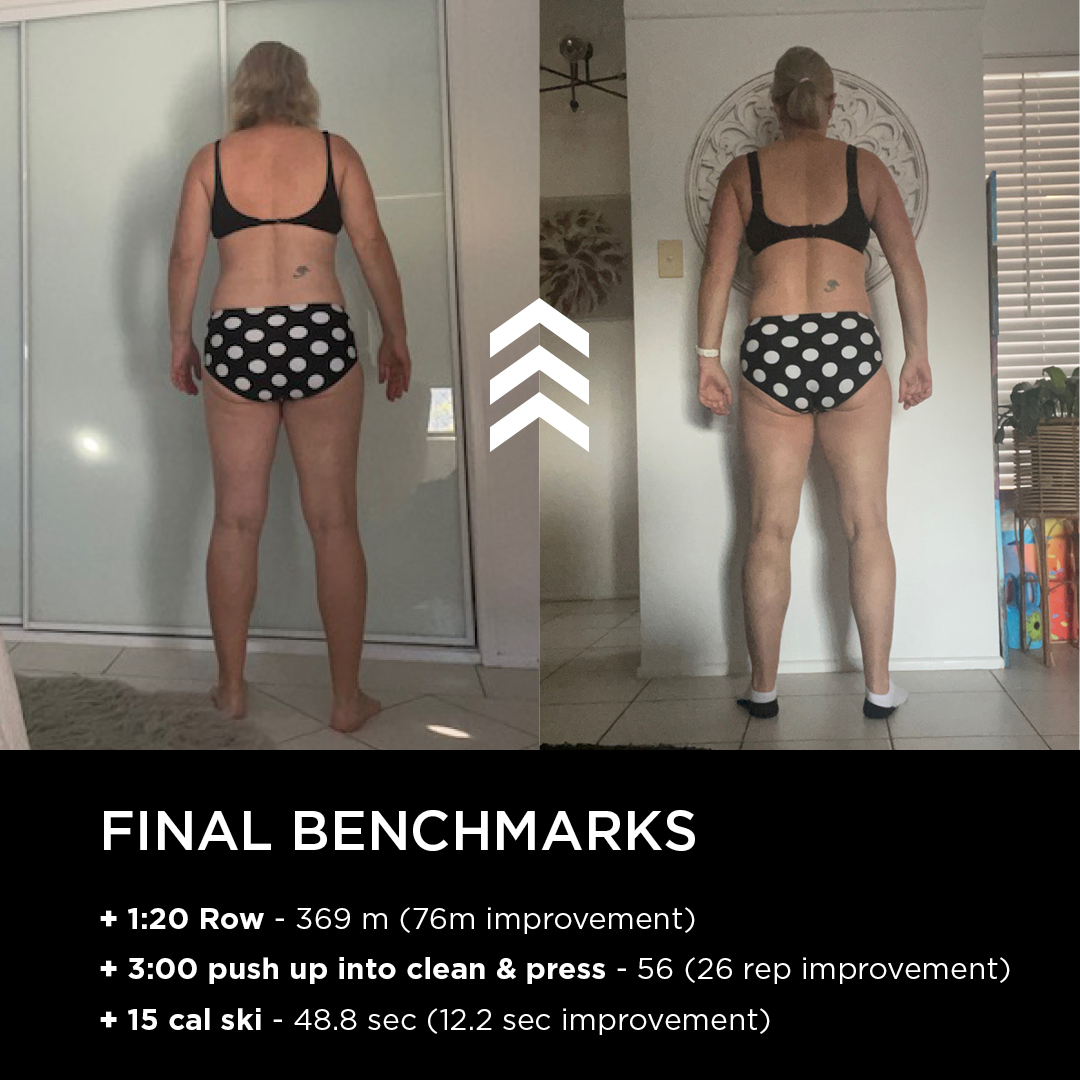 BENCHMARKS

Our 3 Benchmark exercises are designed to track your athletic progression from the start of Training Camp through to the end of the 6 week challenge.
Joanne improved across each of her benchmarks:
Anaerobic Conditioning – 1:20 ROW – 76m improvement
Muscular Endurance – 3:00 PUSH UP INTO CLEAN + PRESS – 26 rep improvement
Power – 15 CAL SKI ERG – 12.2 second improvement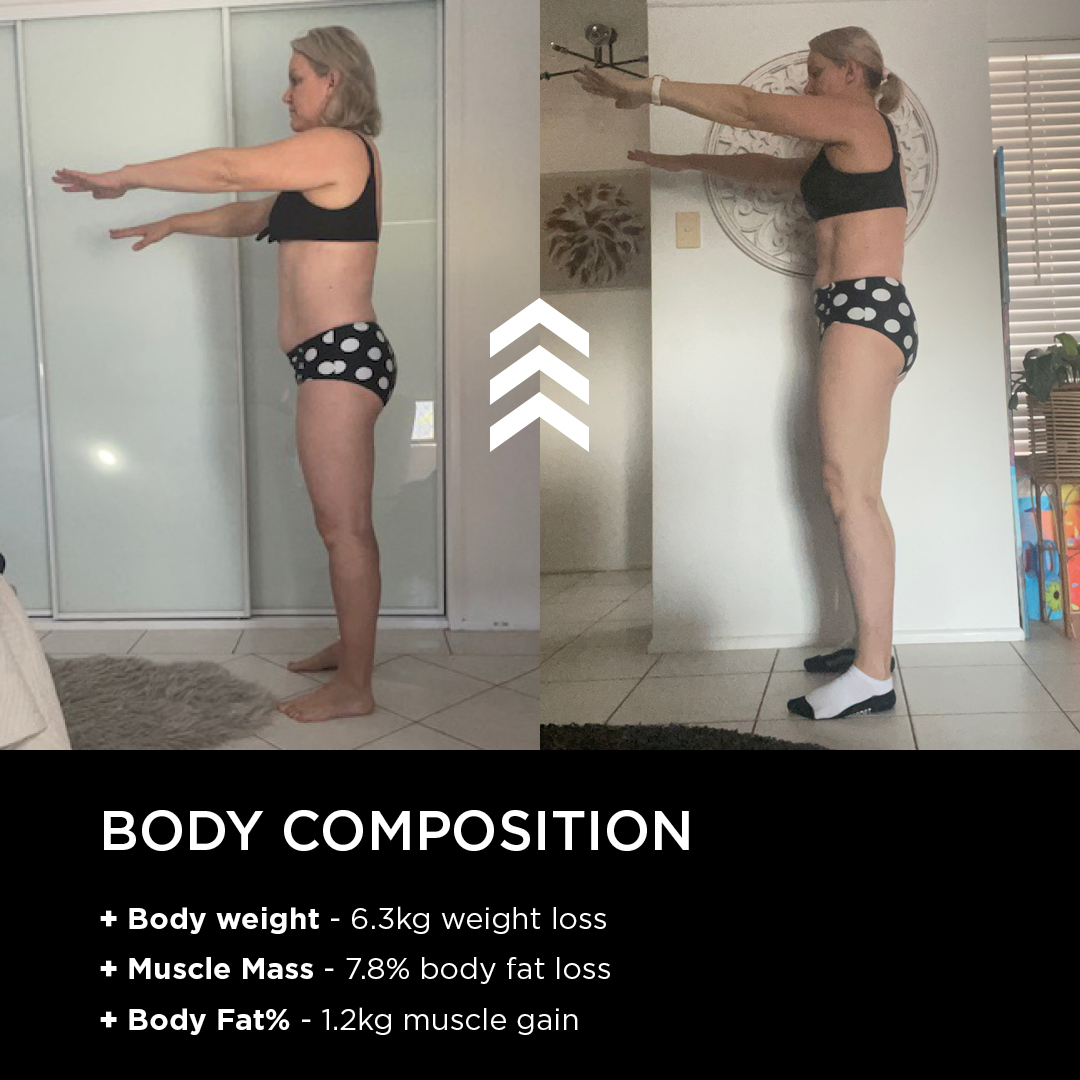 BODY COMPOSITION
Joanne also saw incredible changes in her body composition:
Body Fat Percentage reduced by 7.8%
1.2kg of Muscle Mass gain
Total Body Weight loss of 6.3kg
Our Training Camp provides our members with the Training, Nutrition and Mindset guidance to transform in just 6 weeks – and this was Joanne's experience:
TRAINING
What was your approach to the Training?
"I normally try to train at least 4 times a week as well as walk and jog. However, earlier this year I seriously injured my back which resulted in me having 4 weeks completely off any training and very specific training requirements from my physio when I returned to the gym just prior to the challenge, including no bending during workouts (I can't begin to explain how hard the ski erg was without bending, or the rower was only being able to sit up straight), body weight for many activities and no jumping."
"I knew I would have to modify most stations, which would make it harder to achieve results, so set myself a goal during the 6 week challenge to train 6 times a week and walk each day. This meant early morning starts for walking and evening training sessions at UBX. I stuck to this throughout the challenge. The trainers were amazing at modifying my workouts each session to ensure I didn't aggravate my injury, gradually increasing what I could do as my back improved.
NUTRITION
What was your approach to the nutrition aspect of the challenge?
"As a teacher and mum of three this is where I struggle the most normally. Some days I don't eat at all until the end of the day and then eat incorrectly. My trainers gave me advice on macros and calories. I knew from the last challenge that I struggle to maintain meal prepping throughout the 6 weeks well and do not consume enough protein."
"This challenge I opted for ready-made meals for lunches (My MuscleChef) to keep me on track during the day (and less wanting to snack in the afternoon), and for breakfast and dinner a combination of training camp app meals, my own food prep and ready-made meals."
"Having meals ready each day enabled me to manage my macros better, especially protein which I usually struggle to have enough of. I am not a huge fan of protein powders, and decided to try protein water which I added creatine to. It worked really well for me – I could sip it during the day at work or take it during training sessions."
MINDSET
How are you feeling post-Training Camp?
"I felt amazing at the end of the challenge, both physically and mentally. My back injury has improved to where I can now do most activities and it is no longer causing me pain, I feel more alert and positive, and less tired. I am also sleeping better. ."
"My main goal is to not slip back into bad nutrition habits and undo all of the hard work of this challenge. It's been great to celebrate after the challenge ended, however now I want to get back into training at least 4 days a week again and tracking my nutrition better. ."
"Luckily, I have the Everest Base Camp prize to keep me on track with my training and need to start incorporating longer walks/hikes into training. "
ADVICE
What advice do you have for other members taking on the Training Camp – 6 week challenge?
"Work out what works best for you. We are all different with different circumstances. How much can you realistically train each week, and sustain throughout the 6 weeks?"
"If you can't get to the gym are there other activities that you can do instead? What works for your circumstances with meal preparation? Set your own plan and goal, seek advice from your trainers about workouts and nutrition and don't worry about what others are doing."
"Most importantly don't stress if you have an event, a holiday, get sick or have a bad nutrition day during the challenge. Life happens. Pick back up after and keep going."
Show yourself what your made of – to learn more about the Training Camp and see when our next 6 week challenge starts, head to: thetrainingcamp.com