11 // Training Camp Winner – Amanda
October 13, 2021 at 5:02 am
by
admin
Introducing Amanda, our 11 // Training Camp Major Prize Female Winner.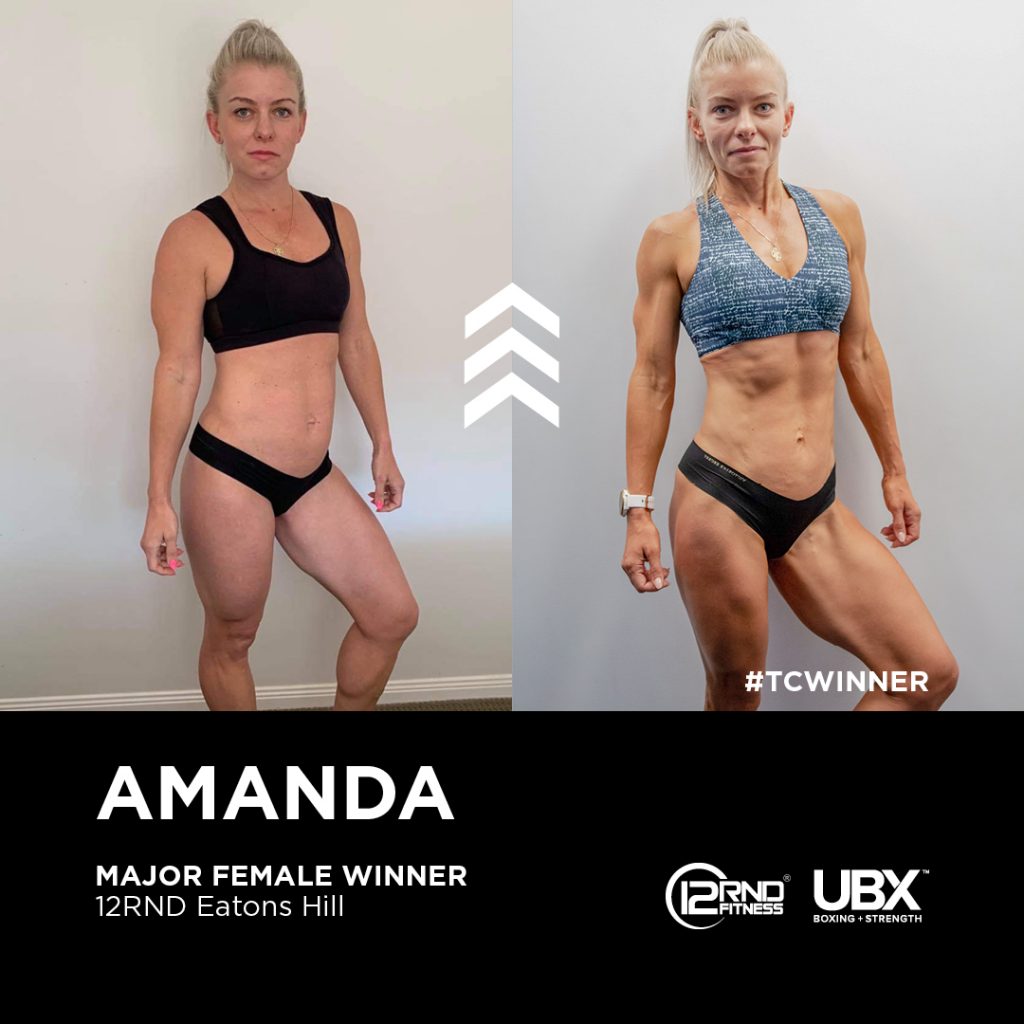 Amanda is a mother of 3, and has been a UBX'er for 4 years as a member of UBX Eaton's Hill.
She first signed up after the birth of her youngest child, deciding it was time for her to get back into her fitness and find time for herself.
Knowing there was a UBX opening close by, Amanda decided to check it out and became a Foundation Member, ready to start as soon as they opened.
Amanda said that the whole concept of not having to book in for a class was the biggest drawcard, as well as the boxing. And as soon as she got home, she told her husband to sign up too.
Over the years, Amanda has participated in other Training Camps, and commits to at least 1 each year where she "goes hard" throughout the 6 weeks, then relaxes back into a balanced routine and prioritises rest.
She said, "having them seasonally keeps me accountable, and this one [11 // Training Camp] was the one for me to get back into it."
Our Training Camp provides our members with the Training, Nutrition and Mindset guidance to transform in just 6 weeks – and this was Amanda's experience:
TRAINING
What was your approach to the Training?
"My training was pretty much the same as usual, I consistently aim to train 5-6 days a week, so I maintained that in the challenge.
My husband and I have developed a routine to make sure we prioritise time for UBX. He goes first thing in the morning around 5am, then when he gets back I go while he watches the kids. Then I'm back in time to get the 3 of them ready for school.
Though, for this challenge I also added in some running up to 3 times a week for additional cardio.
I'm still staying on track post-challenge too and feeling really good."
NUTRITION
What did your daily nutrition look like?
"I got a lot of my daily meal ideas from the meal plan – I basically used it as a guide then made some changes to suit me and my family. I also still use meals from previous challenges.
To keep on track, I basically tracked my calories and macros. I hadn't been doing it lately, so the challenge got me back into it to be mindful of my nutrition again.
During the challenge I try to do meals for the whole family, and find the meal plan meals are good for them too. They really like a lot of the recipes.
And it's great for the kids to see my husband and I eating healthy, because it encourages them to make better choices when it comes to food, and have a better understanding of foods that give them more energy and fuel."
MINDSET
What lifestyle changes did you make during the challenge?
"I started to do a lot more mobility, stretching and walking. I introduced more walks each week as active recovery when I didn't train.
Right before the challenge started I was feeling a little flat, not exactly burnt out, but not myself. Having the challenge I was able to reset and re-focus to feel motivated. I feel like I'm at my peak again, and I'm hitting PB's again too."
What goals did you set for yourself coming into Training Camp, and why?
"My goal was to stay consistent to the entire 6 weeks, because I've started Training Camps before and not finished.
Performance-wise, I have a 10km run coming up and I wanted to hit a PB – which I have.
I truly believe that all of my training at UBX helps me in everything else I set out to do. The times I'm running now I never imagined I would hit them before."
ADVICE
What advice do you have for other members taking on the Training Camp – 6 week challenge?
"Anybody who wants to do it, just do it and trust the process and the results will come. It's simple and it works.
The support of the club is amazing. When you have so many people doing it along side you, the accountability and motivation is really good. It's so friendly and supportive with one another. Both the trainers and the members."
Show yourself what your made of – to learn more about the Training Camp and see when our next 6 week challenge starts, head to: thetrainingcamp.com