11 // Training Camp Winner – Robbie
October 18, 2021 at 11:56 pm
by
admin
Introducing Robbie, our 11 // Training Camp Minor Prize Male Winner.
Robbie started as a Foundation Member of UBX North Toowoomba and is now close to reaching his 600 visit milestone.
Although Robbie had completed Training Camps in the past, before this challenge his coaches pushed him to give it a really good go.
He said that he usually picks and chooses the Training Camps throughout the year to participate in depending on time of year, work and what's going on in his life at that time, and loves to use each 6 week challenge benchmark week as an opportunity to see where he's at in his performance.
RESULTS
BENCHMARKS

Our 3 Benchmark exercises are designed to track your athletic progression from the start of Training Camp through to the end of the 6 week challenge.
Robbie improved across each of his benchmarks:
Anaerobic Conditioning – 1:20 ROW – 31m improvement
Muscular Endurance – 3:00 PUSH UP INTO CLEAN + PRESS – 11 rep improvement
Power – 15 CAL SKI ERG – 1.6 second improvement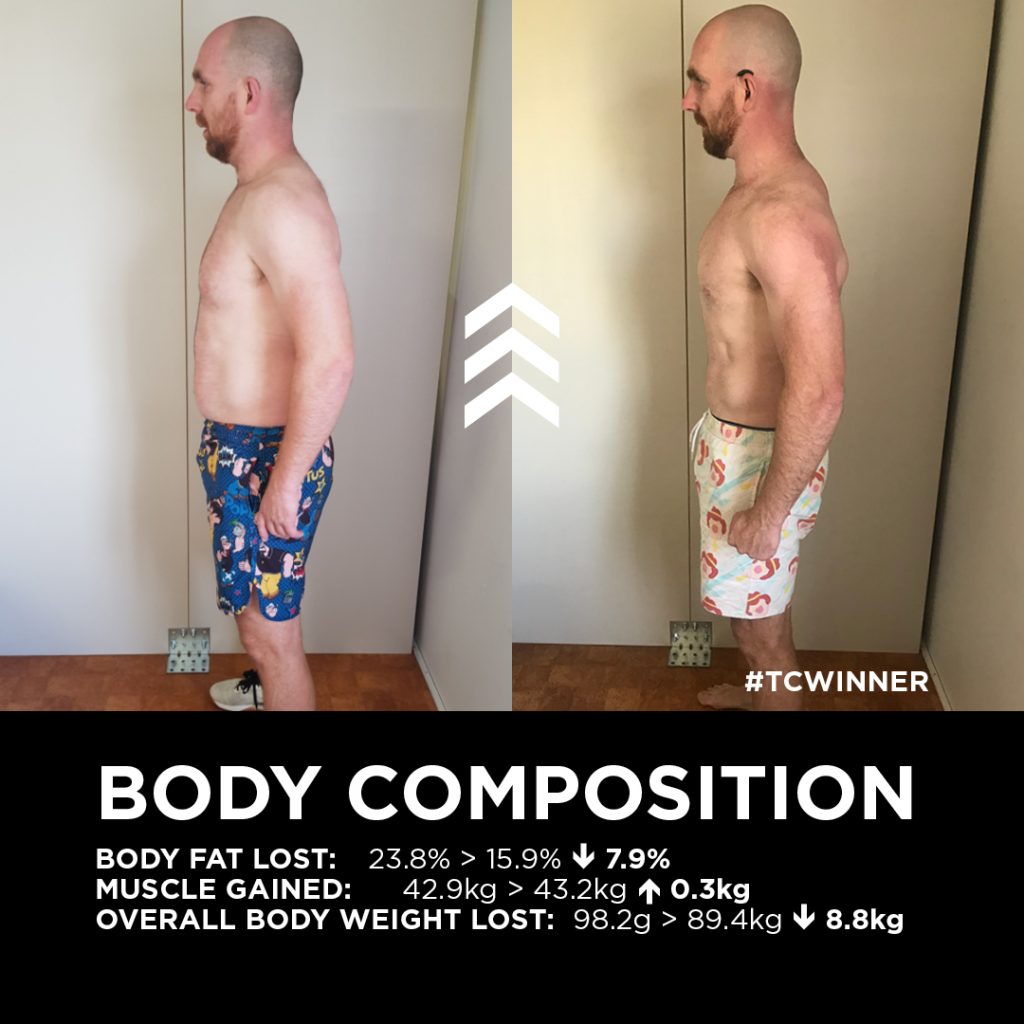 BODY COMPOSITION
Robbie also saw incredible changes in his body composition:
Body Fat Percentage reduced by 7.9%
0.3kg of Muscle Mass gain
Total Body Weight loss of 8.8kg
Our Training Camp provides our members with the Training, Nutrition and Mindset guidance to transform in just 6 weeks – and this was Robbies's experience:
TRAINING
What was your approach to the Training?
"I usually commit to at least 5 workouts a week.
Every time I'm at UBX, I'm in a better mood. I try to come in the mornings so I can start my day with a good workout – and get what I need out of my day first.
I really like to challenge myself and take some of the exercises to another level if I think I can progress on them further. Which my coaches always help me with and encourage me."
NUTRITION
What did your daily nutrition look like?
"I made some pretty strict changes to my diet to maximise protein and healthy fats, but relied on eating the right foods rather than being too restrictive on calories each day.
I cut out beer and sugary drinks, and focused on low carb drinks as a treat instead and kept to 1-2 serves if I felt like it.
Otherwise, I was really consistent with my nutrition the whole way through."
MINDSET
Were there any major changes you observed?
"The first 3-4 days were a challenge with lethargy, but after that point I had heaps of energy.
Towards the last 2 weeks I started to feel a little exhausted but I think that was more of work – but I kept pushing, and I think the training and eating well actually helped me get through it."
ADVICE
What advice do you have for other members taking on the Training Camp – 6 week challenge?
"Just do not compare yourself to other people in the gym, or to what's around you. Have your goals, stay in your lane and work towards that.
And think about why you want to achieve that goal, and make sure it's a personal goal.
You just can't compare your Day 1 to somebody's Day 1000, so if you're a new member don't get discouraged if you see someone else in the gym at a different level."
Show yourself what your made of – to learn more about the Training Camp and see when our next 6 week challenge starts, head to: thetrainingcamp.com