16 // Training Camp Winner – Jacqui
April 27, 2023 at 4:11 am
by
UBX
Introducing Jacqui, our 16 // Training Camp Major Prize Female Winner.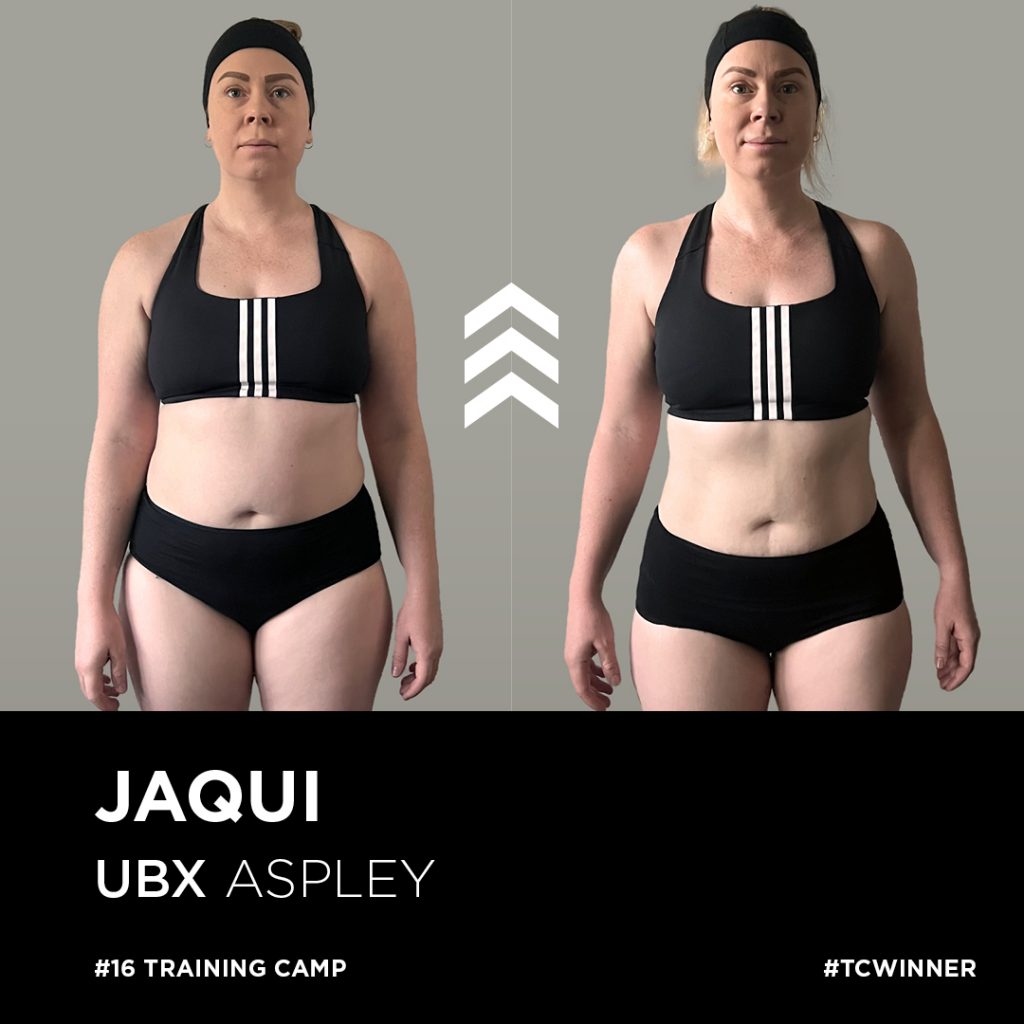 Jacqui became a member at UBX Aspley early 2023, taking on the challenge after deciding that this was the year that she would reset her mindset, get health and start feeling good in her skin again.
After having her first baby 3 years ago, Jacqui said her body had changed and hadn't quite found the motivation to get back to where she wanted to be, but since setting a date for her wedding in 2024, she was ready to take that next step.
Initially a member at another gym, Jacqui had recently taken on a new full-time role that made it challenging for her to make time for her training, so she needed something that offered a little more flexibility. And after being referred to UBX by a friend and completing a trial, Jacqui said she really enjoyed it and after just 1 month saw how easy it was to fit UBX into her schedule at least 3 times throughout the work week.
Jacqui credits her success to the positive environment and UBX Aspley that has her looking forward to every workout and leaves her walking away feeling so much better after each visit.
Here is Jacqui's transformation from 16 // Training Camp:
RESULTS
BENCHMARKS

Our 3 Benchmark exercises are designed to track your athletic progression from the start of Training Camp through to the end of the 6 week challenge.
Jacqui improved across each of her benchmarks:
Anaerobic Conditioning – 1:20 ROW – 38m improvement
Muscular Endurance – 3:00 PUSH UP INTO CLEAN + PRESS – 6 rep improvement
Power – 15 CAL SKI ERG – 7.2 second improvement
BODY COMPOSITION
Jacqui also saw incredible changes in her body composition:
Body Fat Percentage reduced by 8.1%
0.9kg of Muscle Mass gain
Total Body Weight loss of 6.6kg
Our Training Camp provides our members with the Training, Nutrition and Mindset guidance to transform in just 6 weeks – and this was Jacqui's experience:
TRAINING
What was your approach to the Training?
"Just go in, do a good job, eat healthy and do the best I can so that I can keep maintaining my results until my wedding next year.
We have such a supportive environment at UBX Aspley. The gym is such a big part of my life now, and I miss everyone whenever I'm away travelling. Every time I go I feel so good. I walk away feeling so much better."
NUTRITION
What was your approach to the nutrition aspect of the challenge?
"As much as possible I pre-planned my meals the day before, down to the coffee and snacks. Because I knew how big a factor my nutrition would play towards my fat loss and muscle gain. And it made a difference. On days where I couldn't plan ahead it was definitely harder to stay on track. So I would have contingencies, like Muscle Chef meals available for days I didn't feel like cooking.
I prioritised protein and water. The protein intake really made me feel fuller – so I made an effort to ensure I reached my daily requirement as much as possible. I really noticed on the days where I didn't drink as much water.
I loved the nutrition suggestions in the Training Camp app – it was something I'd never had access to before. I've saved so many recipes, and I loved that I could alternate the days to suit my mood and the meals I felt like that day.
Before I kind of had in my mind that to lose weight I had to eat salads but the meal plan really surprised me. There were a lot of great options that were perfect for me to cook for my entire family.
I even learnt how to adapt some of the meals to better suit my personal preferences and nutritional requirements, particularly in terms of boosting my protein."
MINDSET
How are you feeling post-Training Camp?
"I just kept re-checking in with myself and reminding myself why I wanted this.
I would revisit my goals, like how many workouts I'd committed to a week, and if I hadn't met it yet then at least making time for a walk, or prioritising incidental exercise
I just kept visualising my wedding dress."
ADVICE
What advice do you have for other members taking on the Training Camp – 6 week challenge?
"Work out what works best for you. We are all different with different circumstances. How much can you realistically train each week, and sustain throughout the 6 weeks?"
Do it and don't hold back.
Tell the people around you so that they hold you accountable and support you and encourage your healthy choices during the challenge.
Sent your own achievable goals and keep checking in and remind yourself why you're doing it.
It can be hard towards the end when you want to reward yourself but it's just 6 weeks!
And keep it fun – rely on your gym community and the events they hold."
Show yourself what your made of – to learn more about the Training Camp and see when our next 6 week challenge starts, head to: thetrainingcamp.com